In the begging of this year, like many others, i pledged to do some task that could make me feel complete by the end of the year. This is the update, i will do monthly until the challenge is completed, of January:
The Little Prince by Antoine de Saint Exupéry
Thoughts: I still don't like it but it is indeed a very complex novel that approaches delicate subjects. It can be read by both kids and adults gaining always new perspectives at each stage.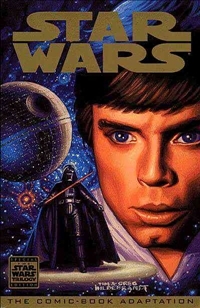 Star Wars: New Hope by Bruce Jones, Eduardo Barreto and Al Williamson
Thoughts: It was the adaption to comics of the Star Wars movie Chapter IV: A New Hope. It was an enjoyable time, easy to read but i did noticed some week spots on the plot. It felt a bit rushed.
The Selection by Kiera Cass
Thoughts: By far, one of my favorites far! It had some tropes from the dystopian universe, resembling The Hunger Games or Divergent, but it was taken in a new direction. It felt something new and fresh. Great narrative and plot.
O Código de Estrada By Segurança Rodoviária
Thoughts: Very Informative and well put together. Needed to get my license. 😛
Thoughts: Hallelujah! It's finally over!
This were all the books I've read this month. So far, so good. How many did you read? Let me know and let's kick this challenge to the curb! May The Almighty GIP be with you,
L.T:Htlls
(Ps.pt: Tentei fazer uma versão semelhante para português mas não consegui fazer com que as imagens ficassem semelhantes. Portanto achei melhor não fazer em Português de mês a mês e no fim do ano farei um especial para todos os livros lidos. As categorias por ordem: Um Livro que consigas acabar num dia (O principezinho), Uma Graphic Novel (Star Wars New Hope), Um Livro Escrito por uma Autora que nunca tenhas lido (A Selecção por Kiera Cass), Um livro de não ficção (O Código de Estrada) e por fim Um Livro que nunca tenhas acabado (Cell). Fiz o review de pelo menos todos em Português por isso acho que a minha opinião está bem explícita nos posts. Em princípio, segunda sairá a crítica literária da Selecção.
Desde já as minhas desculpas.)