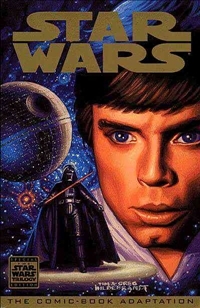 Esta é a adaptação do filme homólogo para a banda desenhada seguindo de perto a narrativa do filme. Com uma semelhança estonteante das personagens com os actores de carne e osso que as interpretam, esta é uma forma de relembrar em papel as sensações do grande ecrã.
Positivo: Foi uma leitura rápida, simples e divertida. Os traços estão bem definidos e não existe grande margem de dúvida no que se passa em cada quadrado.
Negativo: Pareceu-me ser um pouco apressado a maneira como a história foi apresentada mas penso que esse é um problema também do filme, já que a graphic novel é fiel ao filme. Acho que tinha poucas páginas para a história que era.
Nota Final: 4/5 (Quatro estrelas)
Que o Magnânimo GIP esteja convosco,
L.T:Htlls
*~*~*~*~*~*~*~*~*~*~*~*~*
This the adaptation of the movie with the same name and it follows the narrative of the movie very closely. The characters do have an astonishing similarity with the actors of the movie, this graphic novel it's a way of reliving the sensation of the big screen in paper.
Pros: Quick and fun read. Great art and style that makes all the scenes clear and easy to follow.
Cons: Feels a bit rushed, i would be better with a couple more pages, but since it's truthfull to the source material i can't really blame it on the comic.
Final Grade: 4/5 (Four stars)
May The Almighty GIP be with you,
L.T:Htlls