A Revolta parte 1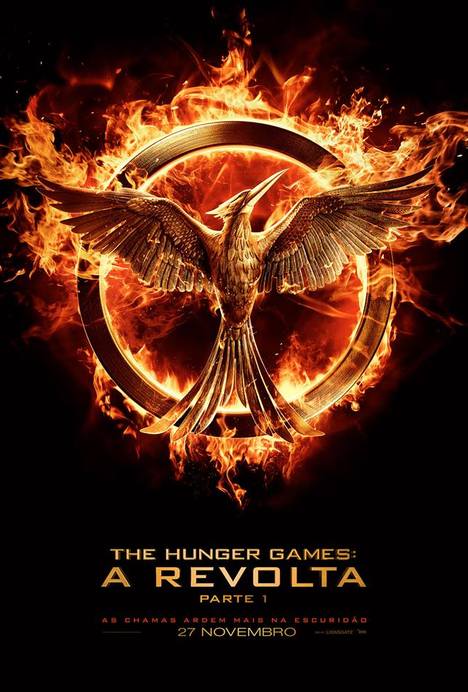 Devo, primeiramente, começar com dois pequenos factos: 1) Eu li todos os livros da série, 2) Vi os filmes anteriores. Para além disso vou falar especificamente de cenas, por isso, deixo já o aviso de spoilers. Muitos spoilers.
Embora aguarde com muito entusiasmo cada lançamento de um novo filme, porque a trilogia de livros foi óptima, devo confessar que odiei com todas as minhas forças a separação em duas partes do último livro. Continuo a defender que é apenas uma maneira de os estúdios fazerem mais dinheiro e é uma das coisas que mais me arrependo de terem inventado na saga de filmes do Harry Potter, visto que agora todas as sagas fazem o mesmo. (Em HP foi um mal necessário mas poderei falar disso noutra altura) Na linha ténue de ser considerada uma hipócrita posso enumerar dois motivos após a visualização do filme que me fazem concordar com os produtores.
1º motivo: Ao terem mais horas para preencher e não terem de seguir o modelo, um livro -> um filme fez com que o director tivesse mais tempo para trabalhar. Isso dá-lhe uma maior liberdade na escolha de cenas e um guião alargado que se traduz em algo que eleva a fasquia deixada nos filmes anteriores.
2º motivo: Gerou decisões interessantes, acrescentou detalhes que não existiam nos livros. Deu novas dimensões às personagens que antes talvez não tinham e fortaleceu muito as relações entre elas. Conseguiu colmatar a falta de informação/detalhes deixados de lado que os outros filmes foram obrigados a cortar por falta de tempo.
Na sequência destas ideias, ao darem uma maior margem de liberdade ao director ele conseguiu transpor muito bem o sentimento amargo de angústia que diversas cenas como: a primeira vez que o Peeta vê a Katniss depois de ser libertado do Capitólio ou então quando a Katniss faz a sua primeira visita ao Distrito 12 trazem quando as lemos pela primeira vez nas páginas do livro. Decidiram arriscar e fazer um paralelo com cenas reais e cruéis que enchem os livros de história com horror. O estado do Peeta lembra-me o das vítimas do Holocasto judeu. O bombardeamento do Distrito 12 parece muito semelhante a uma das Grandes Guerras Mundiais. Este passo arriscado trouxe sem dúvida glória ao director que conseguiu fechar muito bem o círculo, com um crescendo gradual até ao fim.
Momentos favoritos:
-> O infame discurso da Katniss em que desafia o presidente Snow e lhe diz que se os rebeldes arderem, ele arde com eles. Mostra até onde a revolução está disposta a ir depois de ter falhado pela primeira vez, esta é a última e derradeira tentativa e se não saírem vitoriosos, acabam com tudo. A morte é uma opção viável a uma ditadura cruel.
-> Quando Snow disse à Katniss que "são as coisas que mais amamos que nos destroem". Sinto que é um dos grandes marcos e a total revelação do génio deste vilão que atinge o seu apogeu no clímax deste filme, mostrando assim o que é capaz para se manter no poder. Um momento forte e uma interpretação brilhante de Donald Sutherland.
Momento chave: 
-> Propaganda: O tema central deste livro ganha uma nova dimensão com a cinematografia. É neste meio que conseguimos sentir a propaganda, ela é incrivelmente eficiente. O momento mais poderoso é sem dúvida a cena que incluí a música "The Hanging Tree". Deixo-a em baixo se a quiserem ouvir outra/pela primeira vez.
www.youtube.com/watch?v=14H8OzTzne4
Que o Magnânimo GIP esteja convosco,
L.T:Httls
*~*~*~*~*~*~*~*~*~*~*~*~*
Mockingjay part 1
Before anything, i need to state two small facts: 1st) I have read the trilogy of books, 2nd) I have seen the two previous movies. I will also address scenes in detail, so because of that, i give you a spoilers alert! Many spoilers.
While i do await anxiously for every release of the saga based on a really good trilogy i must say i was not happy with the decision of splitting the final movie into two parts. It seems like a way for the studios to make more money, a view i still stand for, that i kind of regret that Harry Potter launched it. (It was completely justifiable in HP but i will talk about this later on). In the dangerous terrain of sounding like a hypocrite, i had to agree with the decision of the executives after watching the first part manly for two reasons:
1st: When having a lot of hours to fill in and don't having to follow the model one book -> one movie gave the director more time to work freely. It gives him a bit more freedom in the choice of scenes and script that translates into quality and raises the bar from the previous movies.
2nd: Creates interesting decisions, adds scenes that were not in the books. Gave new dimensions to the characters didn't had before and strengthen their relationships. It manage to fit in many things that were cut out due to the lack of time on screen to present important detail/information.
Following this train of thought, the director was allowed and won the confidence to take risks that were not made in the first movie that would had take it to the next level. The way he reaches to that raw feeling that the books transmits is by stretching the limit in the scenes of Peeta meeting Katniss after being rescued from the Capitol and the first visit of Katniss to District 12. The parallel made with real events just gave it a new perception of reality. Peeta lookes like one of victims of the Holocaust. District's 12 seemed like a result of the catastrophic events of a World War. That really made the franchise better and it almost gave a sense of evolution until closure.
Favourite Moments:
-> "If we burn, you burn with us!" The powerful and infamous speech were Katniss shows just how far the revolution is whiling to go in order to defeat president Snow. It is their final and ultimate attempt were death becomes the only viable option.
-> "Miss Everdeen, it is the things we love most that destroy us" This is were Snow truly shows it's true colors. The ingenious of the villain that goes to all extent to maintain his powers is be far one of the most powerful scene in the movie. Props for the grand Donald Sutherland!
Key Moment:
-> Propaganda: It's the central discussion of this book and it does gain a new dimension in cinematography. It's in the movies that we trully feel it, it is extremely efficient. The moment that represents it best is the one with "The Hanging Tree" song, the way it escalates on the scene it's trully fantastic. I will leave the link bellow so you can listen to it again/for the first time.
www.youtube.com/watch?v=14H8OzTzne4
May the Almighty GIP be with you,
L.T:Httls